What People Are Saying...
---
---
A Sampling of What People Are Saying...on Houzz and Yelp!
Evan Phillips - Corona
"I had almost an entire floor added to my house in FOUR WEEKS! I went from a 3 bed room house to a 4 bedroom house in FOUR WEEKS! TRUADDITIONS is a great company! Trustworthy, pride in their work, great communication, and most of all FAST! I have ZERO complaints and cant stop sharing my great experience with friends and family!"

---
Sam Fawaz - Trabuco Canyon
It was a great experience working with TruAdditions. The team was efficient, time conscious, professional, and showed great craftsmanship. We are absolutely happy with the work that was done and are proud of our new loft and office space.
---
Sara Louie - Dana Point
(repeat client)
"We loved everything about working with TruAdditions. We recently hired Chris and his team to build a loft addition in our home. We worked with Chris for the design and quoting, and his team took care of submitting our plans to the city and HOA for approval. The construction was supposed to start in early June, but started a week earlier at the end of May (with our consent). Everything was beautifully done in a timely / efficient manner. The team did a great job of sealing the construction zone off from the rest of our house so we could live there throughout the month-long project. Existing flooring, etc was completely covered for protection during the construction. After the construction was completed, the project manager (Rene) made sure that any collateral damage was rectified before calling it done. I can't speak highly enough about Rene - he was very attentive and responsive throughout the entire project. We're super impressed by the TruAddition team & process: before, during and after! Highly recommend them!"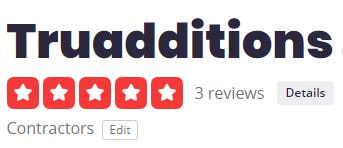 see our 5 Star YELP reviews here
---
---
---
---
Truadditions Corp holds only one negative rating with a repeat client we refused to work for the second time around. You can read it for yourself on Yelp reviews. You be the judge!
---
---